Portfolio Management
Is Your Portfolio Built for Your LifeNeeds™?
Your LifeNeeds™ Investment Plan will reflect your specific timelines and investment goals across a number of asset classes, asset styles and types of securities based on your LifeNeeds™ Investment Assessment. We strive to develop a portfolio for you that maximizes your possible return potential consistent with your indicated level of risk. The following illustrates how each of our LifeNeeds™ Portfolios provides different levels of relative risk and return.*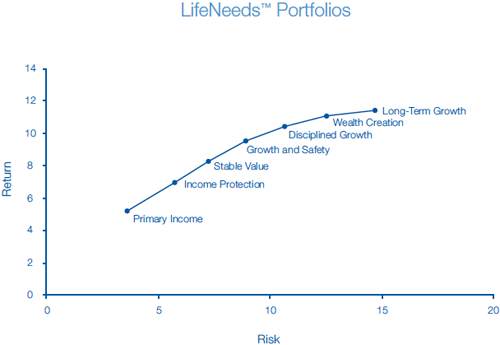 In general, the more bonds in a portfolio the more income you will have and the lower the volatility. Likewise, a portfolio with more stocks will usually have less income and higher volatility, although the portfolio's overall long-term growth may be greater. We create LifeNeeds™ Portfolios that are broadly diversified with a mix of stocks, bonds and alternative investment assets. Then, we further diversify with different asset styles and selected securities. The following illustrates this process.**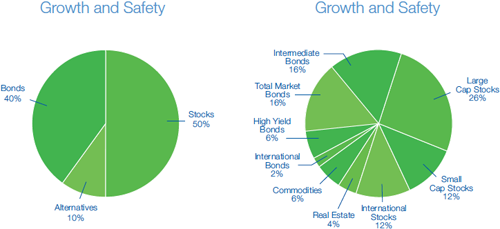 Financial Questionnaire
The following questionnaire is designed to help us give you the best service possible. Please print it out, fill it in, and bring it to your meeting with your trust or investment manager. She or he will review it with you and answer any additional questions you might have.
Download your LifeNeeds™ Questionnaire here.
**Portfolios are illustrative only. Actual LifeNeeds™ Portfolios will vary from time to time as determined by Idaho Trust Bank. No representation is hereby made of the risk and/or return of any particular portfolio. There is no guarantee that any suggested investment strategy will work in any market. You should fully and carefully consider all objectives, risks, expenses and fees before you invest. Past performance is no guarantee of future results.
NOT A DEPOSIT | NOT FDIC INSURED | NOT INSURED BY ANY FEDERAL GOVERNMENT AGENCY | NOT GUARANTEED BY THE BANK | MAY GO DOWN IN VALUE
Like to know more?
If you would like more information on these services, let us know!
Contact Us